Accommodation
The Al Meroz Hotel offers our guests 242 spacious and comfortable rooms, ranging from Superior and Deluxe to Suites, All rooms indicate the direction of Mecca, and contain a prayer mat and a copy of Al Qur an. Our bathrooms feature the most up-to-date facilities, and the in-room television service is programmed for family-friendly viewing.
Enjoy your evenings in Bangkok with a wide variety of rooms for you to choose from try a Superior, Superior City View, Deluxe or Premier Suite. Open the door to the World of cream color and brownish gold color in the luxury hotel with a city view in the busy street of Ramkhamhaeng and a full range of facilities before a peaceful sleep.
Classification of Room Type at Al Meroz is based on the level of floor and also some guest amenities and facilities has also different from each room type. More upper floor will have more scenery of Rama 9 road or Ramkhamhaeng road and may take a view of The Islamic Center of Thailand where is locating in a short distance by walk.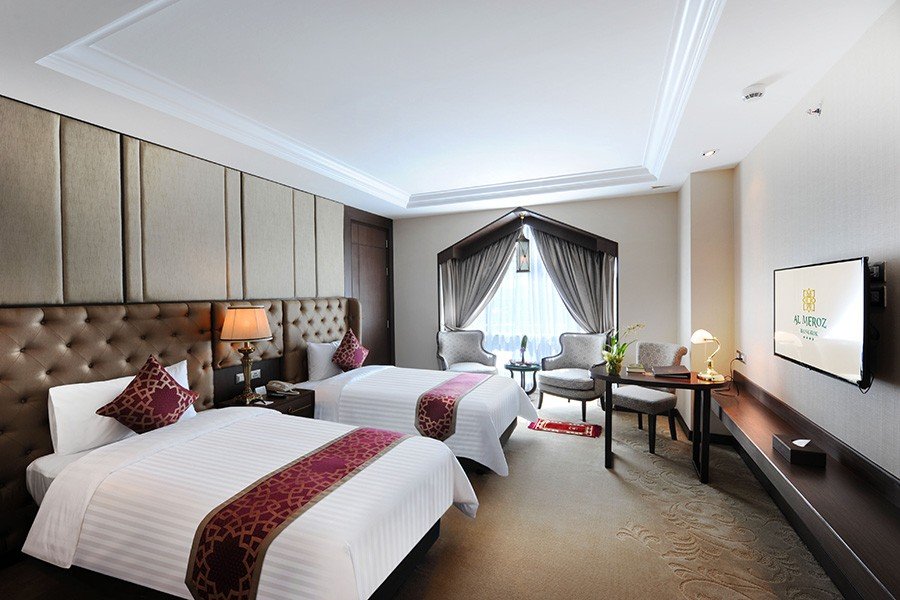 Deluxe Room
Truly enjoy your day and night time whenever look out from the window and enjoy the city scenery meet sky at our 56 Deluxe room on the 13th-15th Floor This room type is not only on the higher floor but also decoration and furnishing is more luxurious and suite for all lifestyle.
Suite
Assuring to have the prestige life in Bangkok while staying at our Premier Suite, with only 4 rooms where located on 14th-15th Floor. All furnishing and decoration in cream color and brownish gold color in the bedroom, dining room and our attractive setting balcony living room is representing the luxurious way of life with pleasant stay in Bangkok.